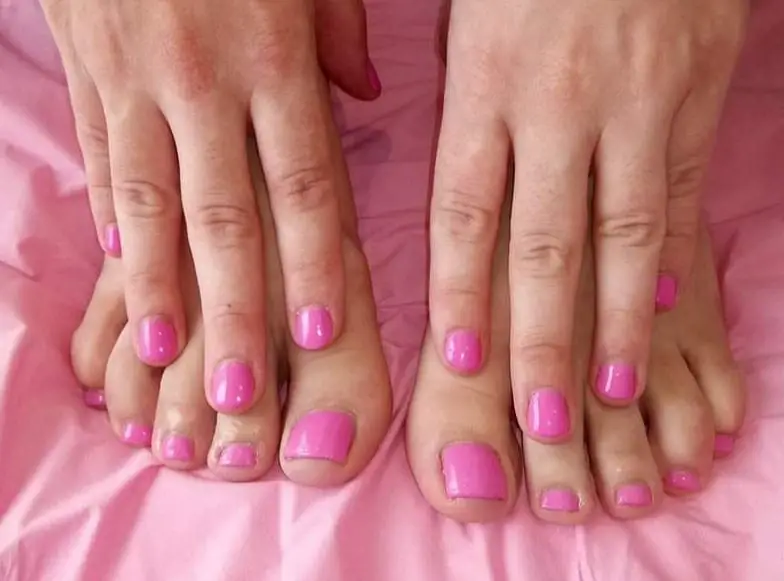 When it comes to a manicure, gel nails are by far the best option in terms of robustness. They combat the chips and loss of shine unlike your average nail polish. A good manicure can last as long as three, sometimes four weeks. This is exactly what all of us want from a manicure right? The problem is how many of us actually have the time to a nail salon to have a gel nail manicure done professionally with work, kids, dogs, partners and everything else in between.
So with this in mind, I have put together my top tips of gel nails at home that last. It includes where you can buy the necessary equipment at the best prices and delivered straight to your door. Im obviously talking about Amazon.
If you haven't already brought yourself a D.I.Y gel nail kit, this LED one is great and so is this slightly cheaper UV gel model that you add your own colours too. LED is around two times quicker than the UV lamp so it depends on what you want. When you purchase a lamp, if its not one of the recommended make sure you buy one that is enclosed at the end, otherwise your nails won't last as long with the open end lamps.
So here we go, the top tips for home gel nails are:
1. Pushing back and removing the overgrown cuticles is the first thing you need to do, using a cuticle pusher. A good one will have a knife on the end and should only set you back a few pounds. This will help stop the gel from lifting, so make sure you do this step but be very careful.
2. Buffing the nails with a gentle nail block will ensure that most of the oil is removed from the nail, giving it a fresh base to apply the base coat too. This is also a good time to file the nail into the shape that you want. Make sure you use a brush to remove any dust left behind and then a prep solution to get your nails ready.
3. Before applying the base coat use a nail prep dehydrator, most kits don't include this but it makes a huge difference to how long your nails will last. Simply apply a thin layer on and it dries within a few seconds, no need for the lamp at this phase.
4. Next apply the base coat very thinly but make sure not to touch the cuticle or the side of the nail, if you do this accidentally then use either the knife on your cuticle pusher or a cocktail stick to remove this before putting into the nail lamp, the base coat only needs to go in the lamp for about 20 seconds in an LED and 40 seconds in a UV lamp. After dry brush over the base with a clean nail brush.
5. Apply 2-3 coats of the gel colour that you want depending on the shade, reds generally cover after two coats where as pinks, purples and black can take around three coats. Make sure you apply thin layers to avoid the gel polish from lifting and remember to avoid the outside of the nail and the cuticles. Use your lamp between each layer of colour and make sure that you cover the end of each nail as this tend to dry and shrink the quickest.
6. Apply your top coat making sure you cover all of the colour gel on the nail including the very tip of the nail. After the nails are finished in the lamp, wipe over with the nail prep using a lint free wipe.
7. Finish with cuticle oil to make your nail's strong. To keep them lasting even longer and your nails growing stronger use cuticle oil both morning and night and see the change in your nail over the next month or so.
8. When removing the gel polish gently file over the polish first. Using gel remover, cotton pads and tin foil – pour some gel remover onto a piece of cotton pad and place over the nail, wrap in foil and leave on for 20-30 minutes. When removing from the nail use your cuticle pusher. Finish either with cutcile oil or start again and treat yourself to a fresh set of nails.
Extra tips:
Everytime you need to clean your hands, choose soap over hand steriliser if you possibly can.
Always wear rubber gloves when cleaning
Try not to bite your nails.
I hope you found these tips helpful. Here's to beautiful nails from the comfort of your own home.
Are you getting married soon and looking for some beautiful ideas, then take a lot at Weddings and Wishes
Why not check out my blog 12 Simple Things You Can Do To Practice Self-Care