What a crappy 14 months it's been for birthdays. No parties or drunken outings where you end up making a massive tit of yourself. Instead being at home doing a zoom quiz with your mates and having a few gins on your sofa.
Although normality is slowing returning (massive finger and toe crossing here) and we should be able to get a few drinks at our local sitting outside, we still need a few gift ideas to brighten up our mates birthdays. Here's a few things I've put together to help you, enjoy.
This blog post may contain affiliate links. If you purchase or sign up to anything from this website via an affiliate link, I will earn a small commission at no extra cost to you.
Personalised Gin Bottles
I am a gin lover and love anything personalised so I completely adore this. I ordered a personalised bottle of Rhubarb Gin for a friend at Christmas and she was over the moon with it and still has the bottle (empty of course) on the side at home. You can order this in all different sizes, just click on the picture to take you there 🙂

Online Courses
So many people have taken up short classes online since the pandemic hit; myself included. The Centre of Excellence has loads of short courses on their to chose from and the good news is you can send a course to a friend as a gift. So many times you can get the courses for only £29 pop along to the website via the link below and taker a look. They are so well organised and you can literally do them on your phone from absolutely anywhere.
Flowers
Now who doesn't love receiving flowers? Clare Florist creates beautiful unique bunches of flowers from yellow roses to a carnival bouquet, there is something for everyone's taste and so many to chose from under £30.
Hamper Box for Self-Care
This Head-to-Toe Pamper Time Relaxation Box includes everything you need to relax including a Face Mask, Foot Peel, Hand Pack, Hair Mask, Eye Kit, Body Butter, Body Scrub and a Fragranced Candle all for under £30.
Prosecco Gift Box
Duo Hamper Prosecco Wine Gift comes in a beaut box and is full of goodies including two bottles of Prosecco and lots of difference chocolates. You can have it delivered straight to your friend as well so a perfect long distance gift too. Currently £26.99
Scented Candles
How gorgeous are these! A pack of four scented candles made from natural soy wax in four difference designs. These are a firm a favourite in my house and have ordered two for friends as well. Even the gift box is gorgeous.
Crystal Gifts
Beautiful Tree of Life Necklace with Quartz from http://www.sophiascrystals.com this is actually my eight year olds business. In lockdown my daughter Sophia asked to earn some extra money, after talking through her options she picked selling beautiful crystal jewellery and bookmarks that she can source and sell. She is doing fantastic locally with amazing feedback too. We are currently working on her website (slow process) but you can still order from there.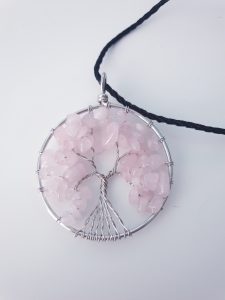 Jar of Smiles
Such an amazing gift to send to a good friend or even your family. These jar's of smiles bring so much positivity with 31 colour cards of kindness and humour for your friend to open and read. This is on my list for this year, absolutely love the idea.
Already thinking about Christmas, check out Why it's not too early to be planning or looking for an Eco friendly new mum gift, then check out The Green Purpose.
If you really love Christmas and are looking for some wonderful new ideas, then definitely check out the blog Your Perfect Christmas.