I have seen so many Lemon Meringue recipes about at the moment, from Lemon Meringue Pie to Lemon Meringue Fudge, so I thought I'd have ago at both.
Let me just say that none of them disappointed at all and will now be firm favourites in our house.
This recipe for Lemon Meringue Fudge is slightly different to lots of other fudge recipes, but it is still super easy to make and is a really quick one to make as well. The longest part of making it is when it take 3-4 hours to set in the fridge.
This recipe full of flavour, while being soft and creamy, with a slight crunch from the meringue.
Overview
Makes 30+ pieces
Prep time: 10 Minutes
Cook Time: 10 Minutes
Setting Time: 3-4 Hours
Ingredients
400g White Chocolate
1 Tin of Condensed Milk (379g)
2 Tsp Lemon Extract
125g of Icing Sugar
6 Meringues (shop brought are best)
Optional yellow food colouring – I didn't use it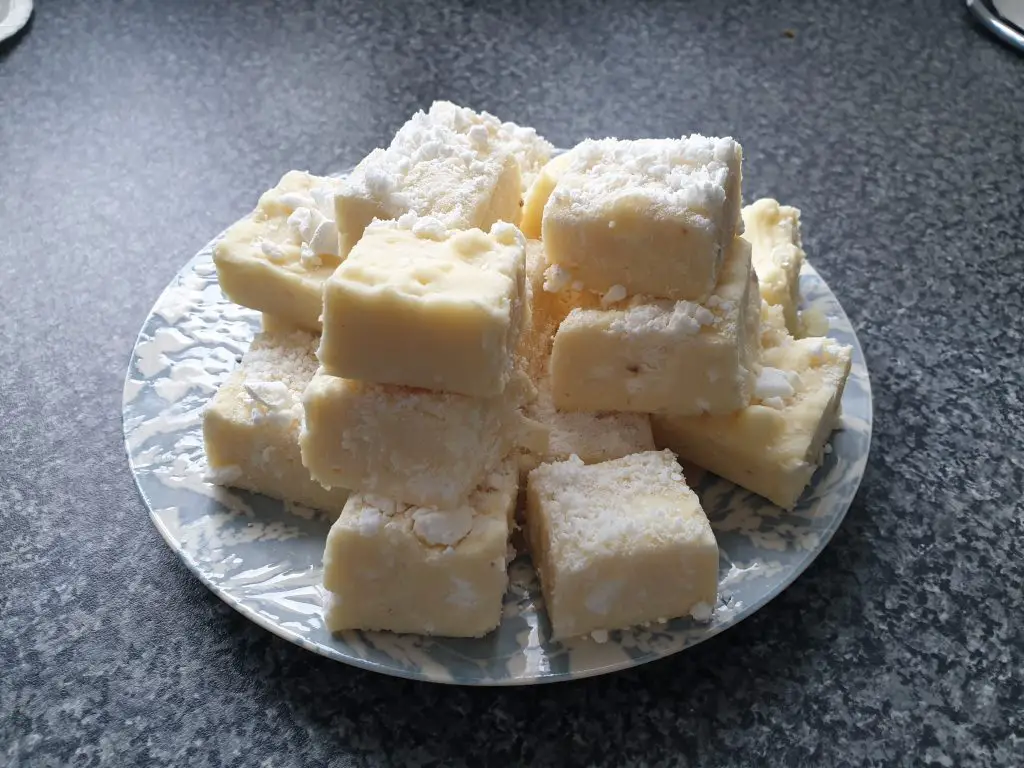 Equipment
8″ Square tin with pop out bottom
Large Saucepan
Spatula
Rolling Pin
Baking Paper
Knife to Cut
Instructions
Break the white chocolate into small pieces and place in the saucepan
2. Pour on the condensed milk and slowly mix both together on a low heat to avoid burning
3. Add Lemon Extract and continue to stir regularly on a low heat
4. Once completely melted, take the saucepan off of the heat and put to one side (move from hob to avoid burning)
5. In a sandwich bag crush the meringues together
6. Sieve in the icing sugar and stir until July mixed in
7. Stir in most of the crushed meringues; leaving just a small amount to sprinkle on top
8. Pour the mixture into your tin (lined with baking paper) and smooth out with a spatula to ensure the mixture is level
9. Pour on top the remaining crushed meringue
10. Place in the fridge for 3-4 hours to set
11. After 3-4 hours take out of the tin and cut into small squares – Enjoy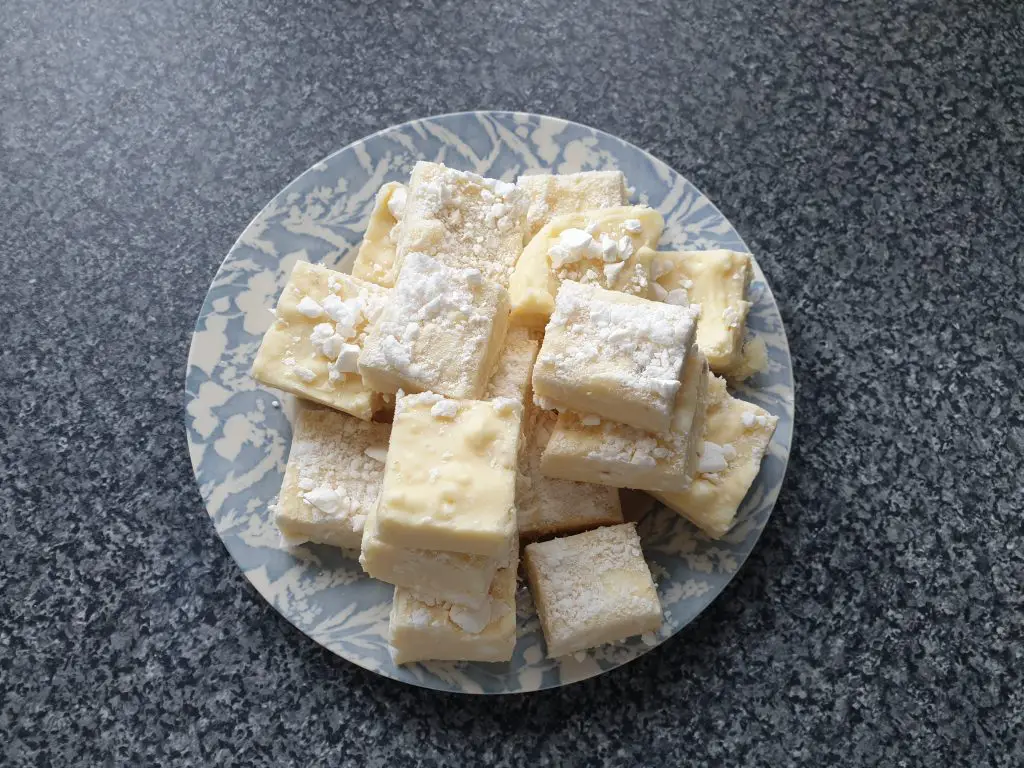 Storage
Store in an airtight container
The fudge generally lasts for 1 week in room temperature or 2 weeks in the fudge.
Looking for some more amazing Lemon tasty treats, then check out this Easy Lemon Drizzle Cake recipe
*This page may contain affiliate links. If you purchase or sign up to anything from this website via an affiliate link, I will earn a small commission at no extra cost to you.